Title: Diffa to Lake Chad
Dates: 18th – 22nd January GPS:
Distance: 404km Total Distance: 5984km
Weather: Strong north east winds (head and tail winds), hot days, cool nights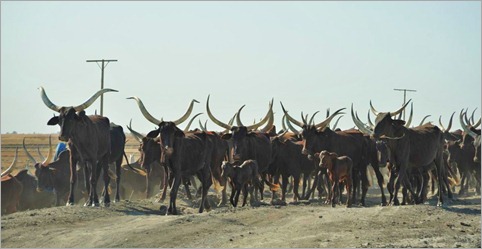 Reaching Lake Chad was always meant to be both a focal point and a turning point of the expedition. The lake was once part of a string of lakes running all the way to the Air Mountains to the north east near Agadez in Niger. Over the last 11,000 years (the Sahara region was once green) the lakes have gradually dried up. Lake Chad however, is drying up at a much faster rate for a variety of reasons about which I hope to find out. The once huge lake is almost at the geographical centre of Africa and in the heart of the Sahel. Surrounded by four countries; Niger, Nigeria, Cameroon and Chad, there are two options to travel around the lake to get to Cameroon. My first plan had been to cycle through Chad to Ndjamena and in to Cameroon, but this would have included about 600km of straight sand and the region is lawless. Bandits could have attacked us at any point as we are such a slow moving target. Cycling through the Borno region in the far north east in Nigeria certainly isn't recommended according to the government warning list, but with some good advice and after developing some reliable security contacts, cycling through Nigeria was by far the best option. Our friend Ali from Niamey sorted out our security contacts there and John phoned them both from Diffa. Our instructions were that we should be fine, but to call them if we had any concerns.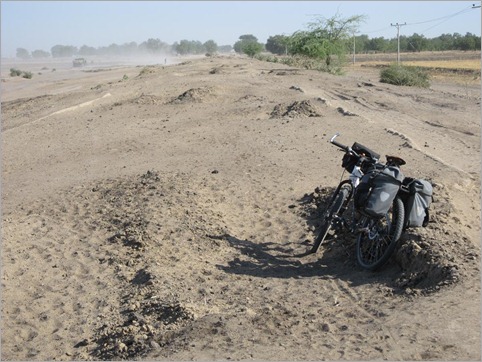 From Diffa we first crossed the Komadougou River which when it rains, flows into Lake Chad. This is a minor border crossing and guards on both sides were very friendly. Nigerians speak English, so conversing is much easier for us in Nigeria, even if the accents are very different. The guards thought the first 35km to Damasak in the sandy tracks running parallel to the river would be impossible on a bike. It was rough and sandy, but there was enough hard-packed ground for me to get by. With a good tail wind helping I was able to generate enough momentum to get through the sand making pretty good time to Damasak and the tarmac. Damasak seemed to be populated by mostly children (who should have been at school at this time of day). On arrival we were engulfed by a swarm of kids. Nigeria is the most populous African country having somewhere between 120 and 140 million people. It is by far the largest West African economy. Almost anything made in West Africa is made in Nigeria and exported to other West African countries.
We were wary of the reported dangers in north east Nigeria, with corrupt police and lawlessness. We travelled closely together, especially through the police and customs posts in and out of each town. In between towns, the vehicle was never more than 10km away where as normally I might spend many hours alone. Heading south towards Maiduguri, the capital of the region, we were still in the Sahel, but the land was more prosperous with better tree cover and pasture for grazing. This is where the Nigerien farmers drive their cattle when there is not enough to eat in Niger. With a strong tailwind for much of the time, I made it to Maiduguri in one and a half days. On the way in to town I was struck by the number of different signs advertising evangelistic-type and fundamentalist Christian religions, each religion competing for new patrons. We even found a hotel which did not permit two people of the same sex to share a room! (We didn't stay there) We had heard there was a curfew in the city and so we made sure we were safe and sound in a hotel by dark. Everything seemed calm though. Problems over the last couple of years have stemmed from Christian versus Muslim – and it is easy to see how this would have happened. Maiduguri seemed quite different to any of the other West African cities we'd stayed in – much more Westernised, more business going on, fast food places, buzzing with motorbikes – but still dirty, with shockingly slow internet and a good market.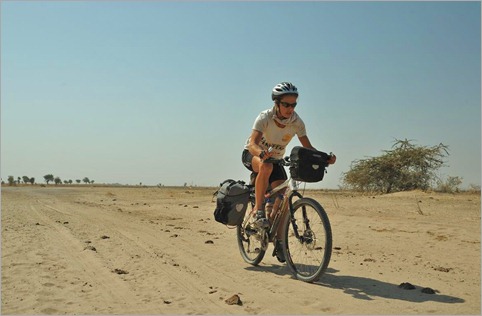 From Maiduguri we headed north east towards Lake Chad and the most northerly Cameroon border at Ngala. This meant pushing directly back into the headwind. There were many large trucks using the route as they headed for Cameroon and then Chad (they can get a transit visa to cross northern Cameroon). On the short half day ride to Dikwa I noticed that not only were there all the usual police and customs checks, but regularly stationed along the road were groups of armed men with vehicles marked with "Flush II". We were usually stopped, but they were friendly. We learned that if we had tried to use the road two or three years ago, we would have almost certainly been robbed or attacked. The government has had a crackdown. Flush I didn't work, but Flush II is a success. Near Dikwa we were protected by the customs officials. After Dikwa, the road deteriorated to hopeless!
The tarmac had worn away completely and mostly it was impossible to cycle or drive on it. Heavy vehicles have driven over it during the wet and destroyed the surface. Mostly we followed tracks either side of the road. Dust from the traffic and wind was so thick at times I struggled to see. The land was deadpan flat and there were no trees on the desolate plains. This is part of the Lake Chad flood plain. Irrigation channels beside the road were dry. There I photographed two girls who were collecting dung to burn. We gave them a little food. Further north, at Baga on the lake, apparently the irrigation channels are operational and the land produces a fair amount of food.
I was certainly glad to arrive in Ngala and the border. We hadn't been able to get our visas in the usual way (in any of the preceding countries we had travelled through) and so fortunately Nerice, our friend who has been helping us from Yaounde, Cameroon had managed to secure them, email the visas to a fellow travel agent, David from Maroua in northern Cameroon. David then enlisted a guide, Martin to travel to the border (400km journey) with a copy of our visas. They had somehow omitted John's passport number, which was very worrying. Miraculously Martin arrived in Ngala at the same time as us. I had been trying to coordinate this via satellite phone over the last few days. Martin did an amazing job negotiating our way into Cameroon. We had no trouble at all even though Cameroon officials are notorious for being difficult. We crossed the north east corner of Nigeria in three and a half days without any incidents.
The road on the Cameroon side was a rough dry-weather road. Every so often there would be rain barriers which prevent traffic from passing and destroying the road when it is wet. I just cycled to the Lake Chad turnoff that evening. We drove the 50km on a minor road up to Blangoua, the only way to see the lake from Cameroon. With Chad being just across the Chari River to the east and Nigeria only a few kilometres to the west, this is a very sensitive region, especially as there is an ongoing border dispute with Nigeria. Having Martin with us was very important in these parts. He knew the processes and how to deal with tricky officials. There were forms to fill out, papers to sign and fees to pay. It all took time, but patience payed off in the end – as mentioned seeing Lake Chad is an important centrepiece to the story of the expedition.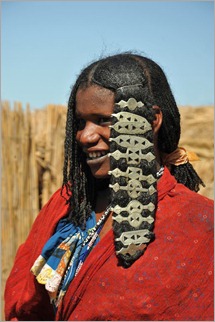 We set off on a powered boat up the Chari/Logone River (they unite in Kousseri a town about 100km south of Blangoua) The eastern bank was actually Chad. Firstly we were taken to an island in the river to meet some Bororo people. The Bororo are nomadic cattle herders, related to the Fulani whom we have been encountering all the way through the Sahel. Their lives revolve around ensuring their cattle have enough to eat. Bororo also live in Niger. The shores of the lake are a real departure from the dry windswept plains we have been travelling through. Much is grown and produced here; fruit and vegetables of all types.
The journey to the lake took a couple of hours, passing small villages, fishermen, checking in at a police outpost. Gradually the vegetation gave way to just reeds and eventually the river flowed into the lake. It is not spectacular, just a wide expanse of open water, but we were there. Lake Chad has been fast drying up over the last 40 years for a few reasons; climate change is a part of it, but also the unsustainable demands an increasing population places on it for food/irrigation and hydro-electricity. As the waters recede, conflicts increase and people are going short of food. The shores are an important breadbasket/market garden for all those who live around it and provide them with a good source of income.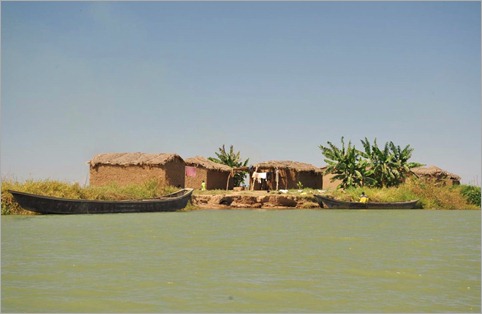 That evening we returned to the village at the junction with the main road, camped and prepared to move on the following day. Martin will be our guide for the next 10 days through northern Cameroon. Reaching Lake Chad is a turning point in the expedition. From here we head south through Cameroon, Gabon, Republic of Congo, Democratic Republic of Congo, Angola and Namibia.