The Team
Kate Leeming
Expedition Leader, cyclist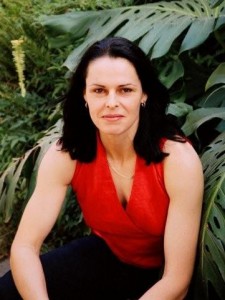 Kate already has two world firsts under her belt – the Trans-Siberian Cycle Expedition (1993) when she became the first woman to cycle across the new Russia unsupported, and the 25,000km Great Australian Cycle Expedition (2004/05) which included the first bicycle crossing of the Canning Stock Route by a woman. 
The purpose of the 13,400km Russian journey was to aid the children of Chernobyl. Starting in St Petersburg Kate, Greg Yeoman and a small team of Russian cyclists,  reached Vladivostok a day ahead of schedule after five months. The route involved traversing 1500km of swamp in eastern Siberia.
Kate then organised, led and completed the nine month Great Australian Cycle Expedition (GRACE) to raise awareness about the importance of education for sustainable development. The unsupported bicycle journey included 7000km of off road cycling on remote tracks, the 1800km Canning Stock Route , which crosses four deserts and approximately a thousand sand dunes being her biggest physical and mental challenge yet. The GRACE Expedition was a Demonstration Activity for the United Nations Decade of Education for Sustainable Development.
In between expeditions, Kate works as a real tennis professional and has retained a top five world ranking since 1996 (except when injured or on expedition). She has won 9 Australian Open singles and doubles titles.
Kate's first book, Out There and Back, the story of the 25,000km Great Australian Cycle Expedition was published in 2007.  
Daniel Harman
Cyclist, expedition support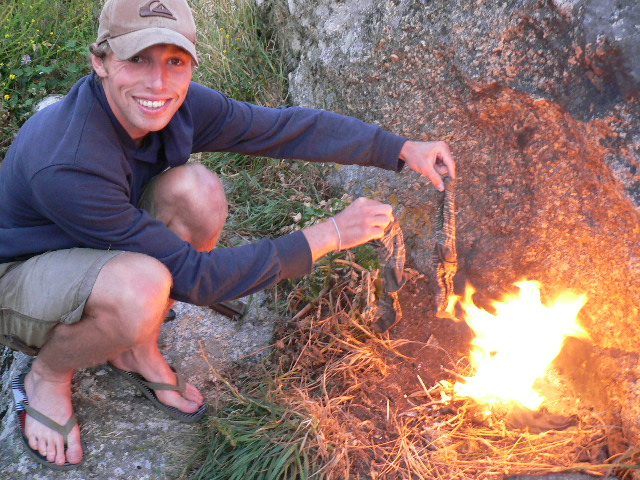 Daniel started his travels in Australia aged 19, and has now backpacked through over 30 countries across Europe, Central Asia and Asia. In 2006/07 Daniel travelled independently overland from the UK to India along the ancient trade routes of the Silk Road. The journey, which took 14 months, crossed 17 countries including: Turkey, Iran, Turkmenistan, Uzbekistan, Afghanistan, Pakistan and India. Once in India, he strapped his backpack to a single geared Indian-made bicycle called Hercules and cycled through the southern states of Kerala and Tamil Nadu. This was where his passion for adventure cycling began. 
Then in 2008 Daniel pedalled 11,000km from his home town in the UK, through Europe and down the West coast of Africa to Freetown, Sierra Leone. This journey was to raise money and awareness for the UK-based charity, FARM-Africa. 
He shares a passion for sustainable development across many forms – from modern day renewable energy to assisting sustainable community-based development. 
John Davidson
Support Vehicle Driver 
After two years in the Australian outback and exploring the wilds of New Zealand by motorbike, John began his career as an expedition leader. Over the next 8 years, John was responsible for planning and leading an impressive number of trans-continental expeditions. These expeditions have included seven month journeys from London to Bali and London to Cape Town. John has driven from the lowest road on Earth (in Jordan) to the highest pass in Ladakh, India.
John has since been involved in one-off, specialist projects and in 2006 worked for Matt Damon on the making of the recently released documentary, Running the Sahara. Providing logistical back up to the film crew and runners, John spent 111 days crossing the Sahara Desert from west to east.
Zdenek Kratky
Cameraman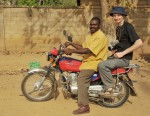 Zdenek joined the team in northern Cameroon. Not only is he filming the journey, but he is also fulfilling another passion – taking stills. Zdenek's experience includes working on documentaries, promo videos, short films and advertisements. He is a keen traveller (USA, Europe, now Africa…), is very experienced in driving trucks as well as maintaining and repairing of all kinds of vehicles. His other hobby is motorcycles. For the past five years he has lived and worked in London, UK, but is planning to return to the Czech Republic after he finishes the expedition.
Patrick MacAleavey
Cameraman (Dakar to Ouagadougou)
Since a young age Patrick wanted to be involved in film. In just three years since deciding to direct and be a filmmaker, Patrick has completed a Bachelor in Film and Video at Deakin University, Melbourne and established himself as a sole trader creating commercial and documentary based media. Patrick is driven by the desire to create unique content that challenges the medium of motion picture and audiences alike.
http://futureprojections.com.au/
Simon Vernon
Support Vehicle Driver (back up)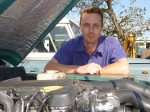 Simon will be joining us in Yaounde, Cameroon to give John a break. He has had extensive experience as an expedition leader for companies such as Exodus and Tucan, travelling extensively through Asia, the Middle East, South America and Africa.
Simon loves off road driving – navigating for a mate in a two car team, competing nationally in winch challenge competitions. He owns two Land Rovers; one is used in French road-book off road driving events, and the other is being prepared for a foray into North Africa (Tunisia/Libya).
Simon currently works as a Land Rover mechanic and has put a lot of time into preparing John's vehicle for our expedition.