Title: Maradi to Diffa
Dates: 2nd – 10th, 11th-17th January GPS:
Distance: 752km Total Distance: 5580km
Roads: Main road nearly all high quality tarmac; desert – rough tracks, no tracks
Weather: Nights cold to very cold, warm days (30degrees); very strong headwinds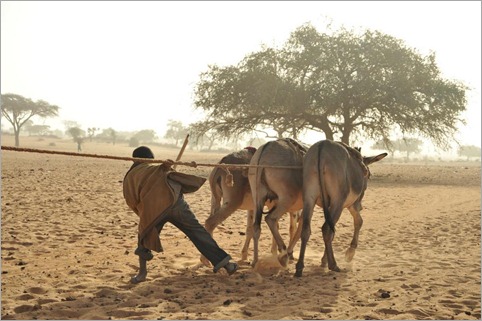 This post is divided into two distinct parts; our week's foray to Tasker, Termit and the Sahara Desert, a time to rest my legs off the bike, and then a week-long slog through the Sahel region of south-eastern Niger.
With Stuart only having a limited time with us to shoot the promotional video, we needed to provide him with a great range of material to make the most of his considerable skills. From Maradi we drove to Zinder, Niger's first capital city (in 1927). There we met up with Limane Feldou and Mamane (cook), our guides from the Touareg organisation, Tidene. Limane and Mamane had just driven nonstop from Agadez, almost 500km north of Zinder. Unfortunately for me, just as we arrived in Zinder, gastro no.3 of the journey manifested itself. This one was intense and I was violently ill for about 12 hours with a bad fever. I seemed to recover fairly well over the next few days, but it wasn't a good start to my week off. Stuart had had a similar experience two days before. We followed the main road to Goure then turned towards Tasker, 160km to the north. The dirt track had been made once but it was not maintained, so John's Landrover and Limane's LandCruiser continually diverted on to the sandy side tracks to get through. The landscape north on Goure is quite spectacular with weathered escarpments and wide open expanses. Our first campsite made the most of the scenery. The team scaled the rockface at sundown. I had been off food for the day, apart from a couple of Cokes (the best way to starve a gastro), but still managed to join the Dan, John and Stuart for the climb.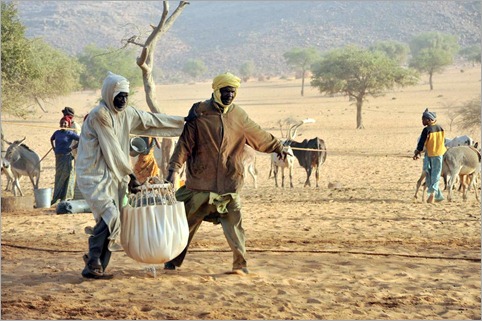 The following morning we stopped at one of the best examples of a working well that I have seen to date. Both villagers and nomads rely on the water, which judging by the length of the ropes being used to haul the water containers up, is about 70 metres deep. The well had five wooden pulleys working at once. Each patron would bring their own pulley wheel. There were also small round troughs positioned about 20m away from the well for people to water their animals, lugging the heavy canvas (or a similar material) buckets across from the well. Water was also stored in containers made from old tyre tubes which were tied at the ends. These were loaded on to donkeys, bullocks, camels or horses and taken away for later use.
Tasker is basically a military town and Limane advised us not to take photos there. We had to check in with the police there. We would have not been allowed to travel further without the correct documents registering our permission to travel through the region. We also topped up on fuel which John and Limane carefully filtered. Vegetation became increasingly sparse as we covered the 120km to Termit. The sandy track was just a pair of wheel ruts and a few alternatives. The jet black volcanic peaks of the Termit range appeared almost sinister as they loomed through the morning haze. They didn't appear spectacular at first – more like a heap of mining rubble. As we ventured around the south eastern perimeter, I was impressed by the unusual colours. Honeycomb-coloured sand spilled over the jagged rocks. Termit has been recognised as a UNESCO World Heritage region for a few reasons. Firstly it is an ecological island right at the point where the Sahara and Sahel meet. It is a sanctuary for some rare species, the best known being the desert addax. Only a precious few are left as the animals are being hunted by poachers to extinction for their prized horns. There is plenty of evidence of ancient cultures from rock engravings and archaeological sites. We had to check in at one more military checkpoint before setting off.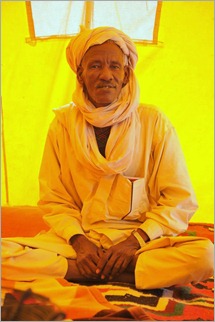 Limane led us to meet some Tubu nomads. The Tubu originate from Chad but have extended their territory into eastern Niger. This group of people is known to be the best adapted to surviving in the desert for extended periods. Tubu claim indifference to exhaustion, hunger and thirst. It's said that it takes three days for a Tubu to eat a date; one for the skin, one for the flesh and the last for the pith! Tubus are materially primitive, but stories abound of their toughness and ability to cross deserts on a piece of mutton and a guerba of water. I was lucky here, as a woman I got the best of both worlds. After warm greetings outside, we were all invited into the men's tent for tea, and where they agreed to allow us to film and take photographs for a fee. They may live as nomads but are still switched on to making modern business deals. I was then invited into the women's tent. Men don't usually get this privilege. At first I spoke to the woman making lunch. The digital camera is a great ice-breaker and pretty soon they were all wanting me to takes their photos. I then graduated into a second room where many of the older women sat by an open fire making tea. I accepted tea and then sweet camel's milk. This was a risk given I was recovering from a gastro, but I couldn't refuse their hospitality. Then another tea was offered, but one of the wise old grandmothers whisked it away from me explaining with obvious gestures that my stomach would explode. She was definitely looking after me. Stuart in the mean time had been allowed to enter the women's tent to film this.
We set off skirting the perimeter of the Termit Range. Tufts of grass made our route rather bumpy, but gradually they became less until finally, at the end of the day we had hit pure sand. Our views to the north and east especially of ergs and ridges are what most people think the Sahara to be like. In fact only thirty percent of the Sahara is sand – and we were enjoying the pure desert. We saw plenty of gazelles, initially in pairs or groups of four, but here we saw a herd of about fifty on the run.
We also used the setting to film some cycling (and pushing up dunes) for the promotional video. Dan also took some great stills. We did some more filming that evening at the next idyllic campsite. We were so fortunate because the usual Harmattan winds which had been repelling me as I cycled east had died down so we had sunny, still days and freezing nights during our stay at Termit. We spent three days travelling through the desert in and around Termit. We even stumbled across an archaeological site and found plenty of stone tools, axes, grinding stones and other implements. These we left there rather than taking them with us.
It was a long drive back to Zinder where we said goodbye to Limane and Mamane – perfect guides, hosts, gentlemen. Limane's organisation Tidene is more than a desert-specialist adventure travel company. They have also set up their own NGO to build wells in the Tidene Valley region, about 80km north of Agadez in the Air Mountains. This seems to be an ongoing process. Each well needs to be 70m deep – the holes are bored usually through solid rock. It takes about 6 months to build a well and importing building materials is an expensive business. Each well costs 10,000Euro (AU$16,000) to build. To find out more and to donate directly to the cause, please contact Christel Pernet at christel.pernet@duodecim.com . I certainly plan to have more to do with Tidene in the future.
John, Dan and I drove back to Maradi and I resumed the cycle journey the next day. The day started off okay but after the first hour the winds were back, knocking me down to 15km per hr at times. I'd also developed a chest infection from the cold desert nights. By the end of the first day out of Maradi I may have done 150km but was so tired I fell asleep before dinner. Dan, who had been inspired by Mamane's brilliant cooking in the desert, has taken on the role of cook – and been doing a great job. The chest infection and cold developed into a nasty episode and combined with the wind which was stronger, knocking me down to about 12km/hr at times, made the next few days a real struggle. My aim was to do at least 100-120km per day, just to keep the odometer ticking over. I struggled in the mornings with the winds and would then take a longer break of up to three hours. Usually after 4pm the wind eased so I could cycle on until dark. John would usually do between 20 and 40km with me in the afternoon which really helped me get through the day.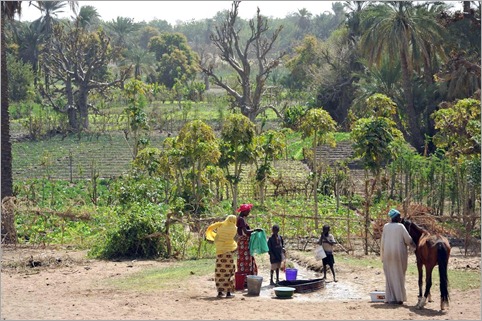 This was the general pattern all the way to past Goure to Diffa. After Goure in particular, the level of desertification increased significantly. We were passing sections of pure sand dunes, manmade by overgrazing, deforestation and population pressure. The UNDP and a few other NGO's have been doing some great dune stabilisation work in the region building brushwood barriers in sections of approximately 20m x 15m to stop wind erosion. FMNR is really needed here. The people seemed even friendlier. I was greeted with big two-handed waves, words of encouragement and smiles the whole way to Maine-Soroa. Here we stayed with Phil and Carol Short, Australian missionaries introduced to us by Sally and Peter in Maradi. Phil, Carol and family have been working in Maine-Soroa on and off since 1974 and have seen a few changes in that time. The tarmac strip now goes past Maine, all the way to Diffa, making travel to Zinder, Maradi and Niamey, 1400km away, much easier. They first arrived during a terrible drought, and have seen a few over the years. Now Phil says, the people are better equipped to deal with the dry years than they were, but much can be done to improve food security. This year looks like being another dry one and the nomads are being forced to drive their herds either further south into Nigeria, where it is not so safe for them to travel, or north towards Bilma. Son Warwick has been looking into the use of native trees as food sources and as a means of generating income. The main tree he has been studying is the Boscia Senegalmsis, which has various names throughout the Sahel. It can be used as a food, timber, fodder, medicine, fuel, poison, alcohol. Some of this knowledge has been lost in Niger and Warwick is working on reintroducing it as a valuable asset which would also be a great tree for FMNR.
After a great half day pit stop, home cooking, washing clothes, good company and internet (albeit very slow), I pushed on to Diffa, just 75km away. The Harmattan was back in force which did nothing for my condition. Diffa was the end of the line for us in Niger. From here we crossed the border into Nigeria.