Title: Luanda (Angola) to Tsumeb (Namibia)
Dates: 4th to 16th April GPS:
Distance: 1703 km Total Distance: 12,677 km
Roads: Mostly good tarmac, 200km of rough gravel and potholed/broken tar sections
Weather: Hot near the coast, cooler at altitude, thunderstorms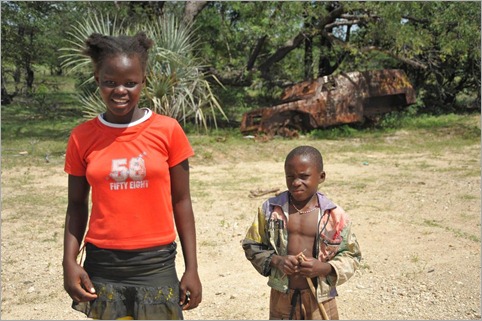 Knowing that we would have mostly decent roads in southern Angola and Namibia, I decided to put in some long days and make up time. Hence I have had my head down and tail up from Luanda to Tsumeb in northern Namibia. I managed 930km in seven days from Luanda to Lubango in the mountains, climbing 1770metres, had a day off in Lubango and then did 773km in five days across the high plains to cross the Namibian border to reach Tsumeb. Even though I was putting in the distance, there was still plenty to see, just not any time to write a decent blog.
Leaving Luanda early in the morning of Easter Sunday, there could not have been more of a contrast with the traffic conditions to when we arrived (in such chaos). I set off from the Marginale – Luanda's waterfront boulevard, rounded the prison/slave house where so many Angolans were deported as slaves to the Americas, and followed the coastline south. Traffic flowed pretty well along the brand new roads, past corrugated iron fishermen's shacks and through a chain of luxury developments which are sprawling to accommodate newfound wealth. There was even a golf course! The most striking of these suburbs (appears as any western development) is entirely owned by the president, so we learned.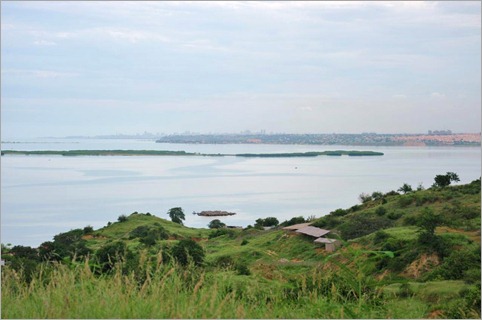 The coastal strip became more desert-like as I headed south. There were many cactus, yuccas and salt resistant succulent plants growing in the poor sandy ground. Being the rainy season, there was still plenty of heat and humidity to deal with. Apart from regions of badlands, there were few hills. Every so often a river carved its way to the ocean and I would have a short steep descent followed by a climb, otherwise it was easy going. South of Luanda is almost like a separate country compared to the north. Not only were the roads very good, port towns such as Amboim and Sumbe were virtual building sites. Sonangol, Angola's oil company was pouring their wealth into the developments. In between all this change there were still many small villages set back into the hillsides with houses made of mud bricks with high thatched rooves. One of the most frustrating things as we were travelling through is that no one could speak Portuguese. Simon could manage a little as he can speak Spanish and has travelled through Brazil. Communicating with the locals was impossible unless they spoke English or basic French. Quite a few did speak a little English because the education level is a little better, especially in the more developed regions. They also get more English TV programs with Portuguese subtitles.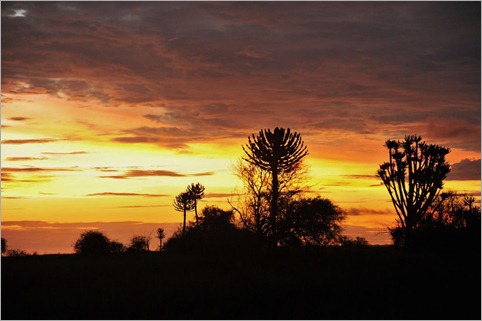 The roads may have been new but that has spelt traffic carnage. The 500km or so from Luanda to Lobito was littered with wrecks from what looked like fatal traffic accidents. Simon estimated that there was a wreck every 300metres. They drive too fast and way too close with their powerful new vehicles.
As we were in Luanda over Easter, we were unable to find out information about Zdenek's Namibian visas requirements. While in Sumbe, he was able to confirm with the Namibian Embassy that he had to return to Luanda to apply for a visa. He returned via bus and was kindly put up by Adrian Fick again while we sorted out an invitation (thanks to Paladin Energy) and visa. We continued and Zdenek flew to Lubango to rejoin us five days later.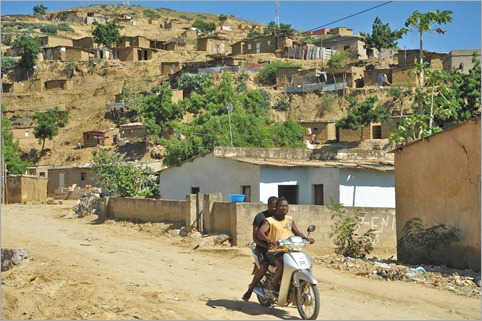 South of Sumbe, the route turned into the foothills – much harder work, but the scenery was rewarding. Jagged limestone peaks formed a stunning backdrop and the land became more wooded and fertile. For the first time since perhaps southern Cameroon people were cultivating the land and producing more of their own food. I passed villages with active markets selling fruit and vegetables.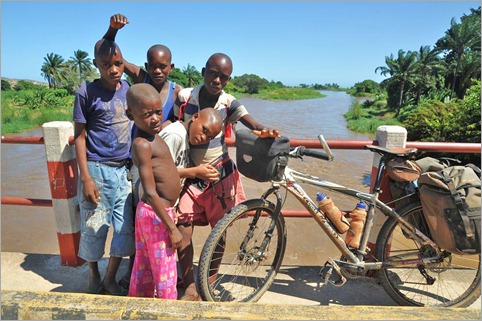 It was then back to the Atlantic coast again for the last time on this journey to the port cities of Lobito and Benguela. I did the last 70km before the bustling cities on my own as Simon and Dan had gone ahead to sort out somewhere to stay in Benguela. In navigating my way through Lobito, I asked many people for directions, until a local named Carlos escorted me through the town on his motorbike. He had lived in South Africa for many years and so spoke good English. We had a great conversation as he led me most of the way to Benguela (20km from Lobito). He mentioned that during the war the city looked much greener whereas now it is dry and dusty – a virtual building site. He pointed out a Chinese camp – like a town site built of dongas (as we call then in Australia). He confirmed what we had heard about corruption levels and when I mentioned the president he did not want to talk about the man! He did not think the country would revert to war again. While we were passing along the main highway, a journalist stopped me and interviewed me for Lobito radio – luckily not in Portuguese! We stayed in the cheapest hotel available in Benguela, but you don't get much for under $200 in Angola. The prices are extortionate for just about everything and so we had to be very careful not to overspend.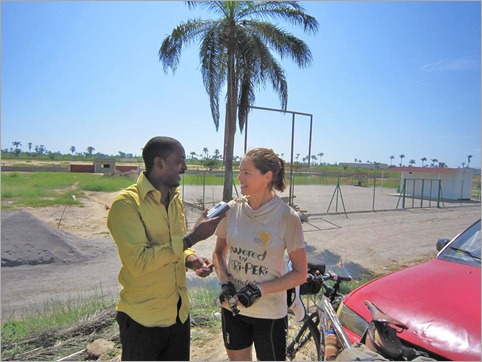 Benguela to Lubango took three days. Although I gained nearly 1800 metres in altitude, the climb was reasonably gradual, apart from one section, and I was able to enjoy the beautiful ever-changing scenery. I was spoiled by kindness along the way. A number of people stopped to give drinks and food. About an hour before the end of the first day up from Benguela and South African truck driver stopped and waved a bottle of iced water. His name was Teeny (spelling?) and after an initial conversation and a drink with the three of us, we agreed to camp together that night. He was well-equipped with a few more comforts than us – as is normal for someone who spends most of his life on the road. He had a fridge, freezer and he even rigged up a shower for me connecting a shower head to a five litre bucket and setting it up between the cabin and the first of the two trailers. That night he pulled some steaks out of his freezer, cold drinks out of the fridge and we had a good old South African braai. Teeny talked about how he feared for his family's safety in South Africa. He calls his wife every night while on the road. They are planning to move to Canada for a less stressful life. Being a truckie in Africa is so much more complex and dangerous than it is in Australia or Canada; with dodgy border crossings, corrupt officials, high duty prices and security. He recalled how he was shot at in the DRC. He also mentioned that he chose jobs between South Africa and Angola in more recent times mostly because of safety and developing business, even though expenses were high. He said he found Angola, on the whole, to be a safe country to travel through.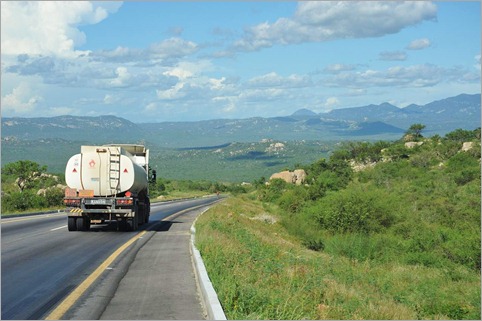 I continued along the new Chinese-made roads. The quality was appalling. Some bitumen was cracking and becoming potholed just three months after being laid. Then the road ran out and that meant some patches of shocking road with wash-aways, sand, mud and heavy traffic. Enormous semi-trailers had to negotiate dips, water traps and steep hills, making even more of a mess and an unpleasant time for all of us.
Lubango, built on the cooler high plains at 1770metres, is an attractive town set with a mountainous backdrop. A huge cross on the mountain above Lubango is reminiscent of the monuments in Lisbon and Rio de Janeiro. The alpine climate was such a relief after sweating it out, day and night in the humid tropics. It was a perfect place to have a day off and re-energise for the next stage.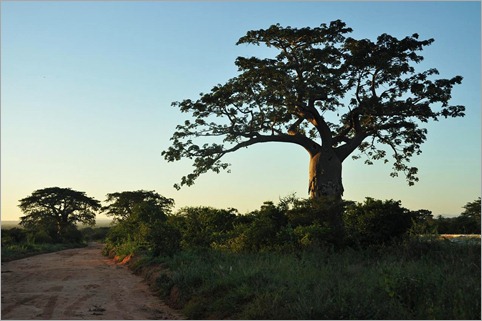 I dropped some altitude gradually over the next couple of days, but stayed above 1100 metres. I really enjoyed the open space after feeling a little claustrophobic in the tropics. I could "breathe again". The cycling, relative to what I have been doing in recent times, was less challenging and I was able to clock consistently big distances averaging 155km per day for the next five days to reach Tsumeb.
This southern region of Angola is home to nomadic cattle herders and what looks like privately owned farms. The cattle herders, like drovers, grazed their stock over the high ground and moved them along the roadside. They looked very different to the Fulani peoples we met in the Sahel region. The Fulani, including the Mbororo all have a slender build, with fine facial features, however these cattle herders were generally very muscular and 'thick-set'.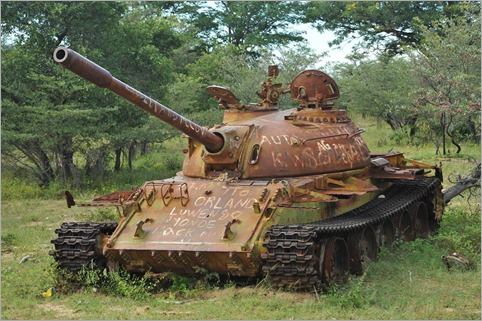 There was a lot of evidence of the war near the border. South of Xangongo, we saw many derelict tanks and military equipment. There was obviously a lot of conflict and Zdenek photographed a war veteran in front of a memorial to the 1987 battle. At Mongua we came across a fenced off area, warning of landmines. One of the villagers explained to Dan that they wanted to expand the main road, but to do so means they have to sweep the entire 20 metre strip of land for mines first. This is an example of the kind of handicap affecting Angola's development after 27 years of almost constant war.
Crossing into Namibia was a painless process. The border post was efficient. Australians and British can just get a visa on the border – free! The change in culture and level of development was profound. Namibia so far, seems easy. They even drive on the left hand side of the road – and the roads are good! They speak English, which means we don't have to struggle to communicate. Supermarkets are well-stocked as in a normal Western store. There is plenty of choice of product and prices are much lower. Services seem to be efficient and people are only too pleased to help. Namibia has a population of just two million people. People seem to be more relaxed and there is less pressure.
I'd managed to gain a day over this section, so we are able to spend that day in Etosha National Park. We have been on the go intensively since Yaounde with days off spent getting visas, organising the next legs and writing, so two days in Etosha is going to be the reward.
Expedition Developments
A big thank you to Ericsson and Ascend Sport (Murray Goulburn Cooperative) who have increased their support for BTC. Ericsson has now become a gold sponsor. Their extra support really makes a difference.
A New Partner
I'm also very pleased to announce that the organisation, Millennium Promise have just become an expedition partner. (www.millenniumpromise.org) New York-based Millennium Promise are a major stakeholder in the Millennium Village initiative. You will remember that we visited Millennium Villages in Potou, Senegal and Segou in Mali. These villages (actually they are clusters of villages) are chosen because they are in marginal zones in need of sustainable development. The aim is that they achieve the eight Millennium Development Goals by 2015. The villages are working examples of how the MDGs can be achieved in the set time frame. I was particularly impressed with the development processes I learned about in Segou and how Millennium Promise was facilitating sustainable developmental change. We have been in touch ever since and now, in conjunction with Ericsson, a major sponsor of the Millennium Villages and BTC, we are jointly planning to feature the Millennium Village in Rwanda. Millennium Promise are also investigating how the Breaking the Cycle education program can be used in their School-to-School program in the US.