Title: Kayes (Mali) – Nema (Mauritania)
Dates: 5th-11th November GPS:
Distance: 653 km Total Distance: 1693 km
Roads: 140 km unsealed roads
Weather: dry, 35-40 degrees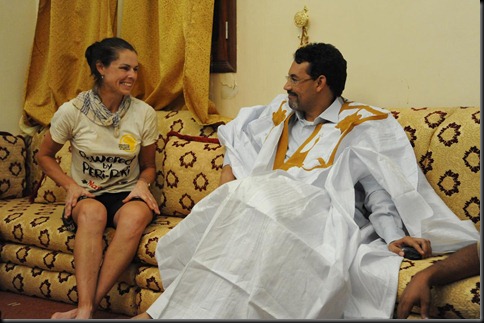 Like when leaving St Louis, Dan and I set off unsupported for two days leaving Paddy to try to sort out his technical problems. We cycled past the many impressive old colonial buildings and market of Kayes, Mali's first capital, over the Senegal River for the last time north east towards Sandere and Nioro du Sahel. The team was supported in Kayes (and will be again in Bamako) by SGS Laboratories and we thank Firmin Bado in particular for looking after us. It is really important that we can have such bases at strategic places on our journey to be able to catch up with everything. Over the next few days our route carved back up through the latitudes from a wetter climate which supports impressive stands of baobabs and other large trees, through the Sahel, dry and overgrazed and finally into the desert. This diversion to visit Oualata in Mauritania adds a further 700km to the route. I have also been careful not to commit to travelling through south eastern Mauritania without ensuring our safety. I've enlisted the help of Seyid Ould Seyid, a well-known journalist and fixer. Seyid has contacted the regional governor who is impressed by the purpose of the expedition and that we are making such an effort to visit his country and guaranteed our safety.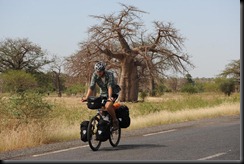 For the first day and a half we followed the main road, into the wind as usual, up and over small range. Actually we followed the road a bit too long, missing the turn-off to the Nioro Road (easily done as there was not an obvious road or sign posts) and covering an extra 30km in the wrong direction. Very annoying! We thought we should be able to take a short cut back to the right track on a small road shown, but the local villagers said it was basically impossible to find the route.
Conceding we would have to return to Sandere, we were preparing to set off when John and Paddy turned up. John had done some brilliant detective work, realised that we may have missed the unobvious turn-off, confirmed with a few locals that we had headed down the main road and duly found us. We returned back to Sandere and set off on the correct track. It is now just an unobvious track. Even though taking the highway would add a further 90km to their route, all drivers now avoid the track to Nioro. The 112km of rough track – very rough for the first 50-odd kilometres to Dioko – was an absolute treat though. We passed through some very isolated villages where the kids probably hadn't seen white people before. Daniel and John in particular were very good at seeking out the village leaders and building a relationship before we captured any visual record. The track surface included plenty of washouts, sand patches and course, sharp stones. On the stony sections Dan and I were even a little faster than the vehicle, but sand slowed us down immensely. There was next to no traffic so it was like having our own private path through the undulating landscape.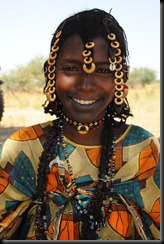 On the second half of this track, where the landscape was more savannah-like we started passing nomads wandering along the roadside, driving their goats and cattle to new pastures. They were exquisitely dressed, the women wore gold decorations in their hair and brightly coloured clothes. A group of children and young mothers (who I guess about 15 or 16 years old) approached us with intrigue while we were stopped for lunch. At first they were afraid of Dan and John, but I managed to break the ice by taking a photo of Dan and showing them, then they all wanted photos. They didn't think much of our tea though. They wanted to try what we were drinking and promptly spat it out. Their idea of tea is more like "expresso tea" – very strong in a tiny glass with masses of sugar. I will upload the photos as soon as I have an opportunity.
The last part of the track was very sandy, with old rough cobble stones sometimes our best option. We took the opportunity to stock up on a few essentials in Nioro which had a good market. In particular we looked for some fresh produce because Mauritania isn't noted for growing much. Then it was back to the tarmac and a further 68km to the Mauritanian border at Goggi. Crossing the border was fairly simple and we didn't lose too much time. We decided to take the main road towards Aiyoun which added about 100km to our journey, this time following the advice of the locals, rather than the short cut – a 210km rough road to Timbedragh. As we headed north, the grazing land became so denuded that sand drifts had enveloped the main road in places. At any place off the main piste the grassland was thick with burrs and thorns, making any idea of taking a shortcut across to the main road to Nema out of the question – well almost.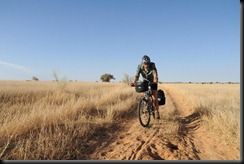 Our maps showed a smaller track which would save us approximately 40km, so John and Dan did a short recky in the vehicle to see what the track was like. They thought that after the village, which was full of sand, it would be cycleable, so we had a go. Unfortunately it was sand all the way and going off the sandy track meant more sand and burrs. Incidentally, the current puncture count is Dan – 13, me – 4! We are fast running out of patches. Exhausted and fast running out of daylight, we were welcomed into a small village called Seli hi yas Telia (sud) where we treated with the most amazing hospitality. They offered their usual fare which was couscous – three different types, fine, medium and couscous made into a paste. The idea was to mix this with milk and constant glasses of sweet strong tea. The village has approximately 300 people, 70 houses, 500 cows, 150 sheep and 200 goats. The school (primary) has three classes and four teachers – one French and three Arabic teachers (people speak Arabic in Mauritania). Communication was a challenge, but between us we managed. The main issue for them as a community is water. Their groundwater aquifers are drying up – the well is already 30m deep. This was a magic evening as we slept outside beneath the stars on their floor cushions. We set off early, Dan repairing yet another puncture before struggling in soft sand for a further 19km to hit the main road.
The road we picked up on, heading to Nema is commonly known as the road to nowhere. Built in 2006, it is the only tarmac strip in across Mauritania – Nouakchott (the capital) to Nema is approximately 1200km. Long and straight it reminded me a little of cycling the Nullarbor, complete with headwind! Small villages are a little closer together though. They have a different layout and atmosphere to those in Mali. Mauritania is an Islamic State with culture more closely aligned with Arabic countries north of the Sahara. Seyid, who was going to meet us in Timbedragh that night organised a lift to join us on the road as we ended up being 60km short of our destination. As he has gone through the government channels to ensure our protection is guaranteed, the local traffic police insisted we camp at one of their regular check points rather than as we would normally (in a discrete place well out of view of any road or village). While Seyid is with us he is also working as a journalist, producing stories about our expedition and other interesting things he learns along the way. He interviewed Dan and I during our next day on the road.
Our first main appointment to keep was meeting the governor of the Nema region (like a state governor). In Nema we were escorted straight to the governor's residence by the local police. Having been on the road for seven days straight we were looking decidedly rough and filthy. I guess our appearance may have looked authentic but we all felt rather self conscious being formally received in a diplomatic situation. The newly elected governor, Mohammed Rana was particularly impressive. Last year Mauritania held its first democratic election since the previous military coup. Officials such as Mohammed are very keen to emphasise that the country is now a democracy and there is a real air of optimism; an opportunity to move forward, improve infrastructure, promote international relations, encourage tourism. Having Seyid there to translate and direct diplomatic proceedings was invaluable. We learned a little more about Oualata and he was impressed that we have made a 700km diversion to include the ancient town and south eastern Mauritania in our story. To travel across Africa from west to east, we could have easily cut this part out, but I sometimes the easiest route is not always the best. Mohammed has given his guarantee that we will be looked after in his country, so to reach Oualata, 120km from Nema on an extremely rough and sandy road, we are to be accompanied by an armed escort. We've already discovered that Mauritanians are incredibly hospitable people, but borders to the north with Algeria in particular are impossible to police, and with Al-Qaida known to have infiltrated into this bandit territory, the new government is not taking any risks.
I am writing this blog from Oualata (where there is no internet connection). The story here is so big I have not time to write and will dedicate my next entry to this amazing place, so more very soon. Hope you enjoyed all the photos posted previously – some absolute crackers to come! From Oualata we will head south back across the Mali border, cutting through the Canal du Sahel (which I understand to be an important food producing region) to Segou and Bamako (capital), both on the Niger River.